When you need a quality Leeds roofer, choose the experts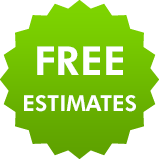 If you're on the lookout for an excellent roofer in Leeds then we hope that you've found exactly what you've been looking for. With over two decades of experience and a wealth of knowledge, we're a great choice for all your roofing needs. We're inexpensive, quick, thorough and everything we do is fully guaranteed.
A wide range of roofing services from a local company
As expert roofers offering a complete range of professional services to the area's homes, call us if you're in need of some of the following:
Roofers that cover all households, with extensive guarantees
All work is performed to high quality standard, and every job we do comes with a lengthy guarantee. Each roofer in the company aims to give you complete satisfaction with any work we might undertake for you - great for your peace of mind, and for your home.
We're happy to come along and survey what needs to be done, before giving you a competitive and free estimate to get the job done. Call your new roofers today on Leeds 0113 370 8775.