Roofing in the Bramhope and Cookridge area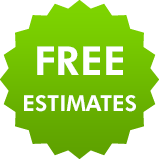 If you're looking for an excellent roofer in Bramhope or Cookridge, able to provide top quality roofing at low prices, get in touch. We've been providing roofing services to the houses of the area for twenty years, and that experience is your safeguard for a dedicated and professional team of roofers.
Whether you need a leaking flat roof repaired, a whole new pitched roof constructed, or a simple roof tile replaced after a windy April night, you can rely on a dedicated team of roofers able to help with any project or problem that your home might have.
A roofer with a huge range of services:
We offer a wide variety of building work, including:
Replacing broken tiles or slates
Slating and tiling work
Re-roofing (strip and recover)
Leaking roofs repaired
Chimney repairs
Guttering repairs and replacement
Fitting and fixing Velux windows
Lead flashing repairs
Free quotations from your roofer
If you're worrying about adding to costs before work has even started, you can relax, knowing we always offer every customer a free estimate. Whatever size your roofing job may be, we'll arrange to visit at your convenience, allowing us to provide you with a free quotation for any building work or emergency you need help with in your home.
If you're planning to rejuvenate or replace your roof, or simply need some shoring up after a particularly windy day, get in contact with your new roofers on 0113 370 8775