Slate roofing in Leeds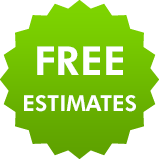 Roof slates are prone to slipping and moving as the nails holding them in place perish over time, allowing water to get in. If this is happening to your home, you can call one of Leeds' most recognised and respected roofing companies; offering a slate re-roofing, roof renovation and repair service which is second to none.
A complete range of services
We've been providing slate building work to homes for over two decades, giving customers the security of experienced roofers and the comfort of a twenty year independent insurance backed guarantee. Call us for:
Roof repairs
Renovations
New installations
Re-laying slates
Mortar replacement on ridges
Why choose us to repair your roof?
We pride ourselves on speedy, efficient and professional service across the whole of your local area; we're striving to offer home owners a high quality slate roofing service at an affordable price and acceptable price, to benefit both you and your home.
Free estimates for all procedures and repairs
Call us and we'll be more than happy to negotiate over the phone or arrange a convenient time for us to visit you, as well as providing you with a free quotation for any work or repair you need help with. You'll find that we offer great prices and an excellent service.
If your house needs some slates replacements or repairs, renovation work carried out, mortar replaced or a whole new installment carried out, then get in touch with your new roofers today on 0113 370 8775 and let's talk through how we can help you.