Roofing in Alwoodley and Adel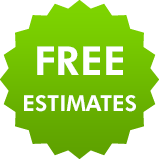 If you need a roofer in the Alwoodley or Adel area capable of delivering a high quality roofline at excellent prices, call us. We've been providing roofing services for more than twenty years, meaning that in employing us, you gain a team of experienced roofers that know how to do things right, first time.
No matter the requirement or problem that you might have - whether you need a broken or slipped roof slate replaced, your gutters seen to, a leaking flat roof repaired or even a whole new roof relaid or constructed - you'll know we can help.
A massive range of services from a local roofer:
We offer a huge range of building work, including:
Replacing broken slates or tiles
Slating and tiling work
Re-roofing (strip and recover)
Repairing leaking roofs
Repairing lead flashing
Guttering work
Fitting Velux windows
Repairing chimneys
Free quotations
If you're worried about amounting costs before your roofer's even begun work, you can relax; whatever size your project or emergency might be, we'll either negotiate over the phone or arrange to visit at your convenience, either way allowing us to provide you with a free quotation for any roofing work that you may need help with.
If you need a roofer to help rejuvenate your home, apply new installations or simply deal with minor damages, get in touch with your new roofers today on 0113 370 8775