Affordable re-roofing in Leeds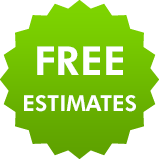 A new roof, whether its a re-roof to replace an existing one, or the construction of a brand new roof is a complex job which needs to be left in the hand of experts.
Across Leeds, we've been offering an affordable re-roofing service for years and have earned ourselves a superb reputation.
A replacement roof in the material of your choice
Our experience extends to both pitched and flat roofing. When it comes to pitched roofs, we offer a full re-roofing service to replace an existing roof built in slate, tile or Yorkshire stone.
Our flat roofing expertise extends to torch on, built up felt, fibreglass and rubber. In short, whatever re-roofing needs doing, we're the team to call.
Why choose us
Leeds offers plenty of choice when it comes to people who can re-roof your home, here's why we think you'd be smart to call us
Experience - we come to you with plenty of experience in replacing, extending and re-roofing both flat and pitched roofs
Reputation - when you work as hard as we've done and strive to have the best name in the area you do everything you can to protect it
Location - being Leeds based and covering the whole area you can be confident that whichever part of the LS postcode you're in, we will happily come to you
Prices - low prices very often mean poor workmanship. We aim to be affordable without that affordability affecting the quality of the finished re-roof job
Guarantee - don't be fooled into thinking all guarantees are the same - they're not. Call us and ask us about the guarantee options available to you
Talk to us today
It's unlikely that you'll give the re-roofing job to any Leeds roofer. Instead, you'll probably want to carefully select the team to use. We'd welcome to opportunity to meet with you to discuss your requirements and to explain why we're the re-roofing team of choice.
We're available on 0113 370 8775. Call us now.