Roofing in Pudsey or Farsley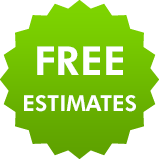 If you're looking for a roofer in the Pudsey or Farsley area to produce a high quality roofline at a great price, then you've found the perfect company. With over two decades of experience in supplying excellent roofs, the team of expert roofers you've chosen will perform to high standards.
Whatever project or problem you might need help with - whether it be a leaking flat roof in need of repair, or a roofer to replace a tile after a stormy night - we're capable of any task.
A massive range of services for roofs
We offer a full and extensive array of roofing work, including:
Replacing broken tiles or slates
Repairing leaks
Re-roofing (strip and recover)
Tiling and slating
All guttering work
Velux windows fitted
Lead flashing
Chimney stak repairs
Free quotations from your roofer
If you're concerned about incurring any costs before construction's even begun on your home, there's no need to worry; we can arrange to visit at your convenience, allowing us to provide you with a free quotation for any work your roofers perform.
If you need to repair a few tiles or slates, deal with your guttering or lead flashing, or start construction on a new roof altogether, call your new roofers today on 0113 370 8775.